The Ultimate Winery Guide:
Every Place to Visit in Napa & Sonoma
NAPA VALLEY
Napa Valley is hands-down the most popular wine region in America. Brimming with elegant tasting rooms, quaint towns, and more than 400 wineries, it's no wonder Napa wines are celebrated the world over. Find your favorites among our best sellers!
Orin Swift Cellars
While in St. Helena, pop into Orin Swift for a change of pace. Here, you'll find intense, well-crafted wine with show-stopping labels crafted by the visionary winemaker Dave Phinney. Set against a playlist curated by Dave himself, your tasting will include several red wines like the winery's famous dark violet Mercury Head Cabernet Sauvignon and the inky black Machete Petite Sirah. The 8 Years in the Desert Zinfandel blend is a must-try; it's the wine that marks Phinney's famous return to the variety after an eight-year hiatus from making Zinfandel. Phinney says: "We offer a laid-back tasting where guests not only learn about our wines, but also our history and the unique story behind each label. From glass selection to the label material, each wine has a distinct point of view, and every element has my touch and design vision.
William Hill Estate
For a scenic sipping excursion, reserve a visit to William Hill Estate Winery. From June until October, you can book the First Saturday Sunset Pairing at William Hill Estate, which takes place (naturally) on the first Saturday of each month. The unique tasting experience features a curated food pairing matched with a selection of small-lot Winemaker's Series wines, like Spring Mountain Chardonnay, Carneros Chardonnay and the Notch Red Blend. Come sunset, the winery views are just as impressive as the wine itself.

"The views from our tasting room are unparalleled — the rolling hills of our Estate Vineyard and the Mayacamas Mountains at sunset are stunning," says winemaker Mark Williams.

If you're interested in tasting fine, rare wines brimming with California flavors, look for William Hill Estate's small-lot Winemaker's Series wines.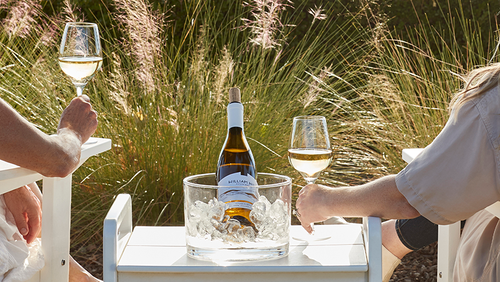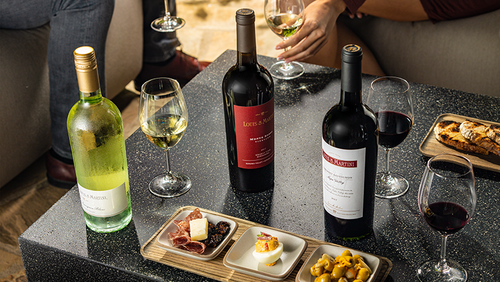 Louis M. Martini Winery
If you are a Cabernet Sauvignon aficionado, however, a great place to start your Napa Valley trip is Louis M. Martini Winery. The iconic winery was one of the first in the area to open after Prohibition and has since built a portfolio of celebrated Cabernet Sauvignon. Winery guests can swirl, sniff and sip their way through a flight outside in the idyllic Martini Park.
Out of the winery's four tastings, the Heritage Terrace tasting is recommended by winemaker Michael Eddy. "We hand-pick a selection of our most sought-after wines and our onsite culinary team carefully curates a pairing menu that can be added on to complement each wine," he says.
Enjoy elegant al fresco tastings, bottle service and multi-course wine-and-food pairings in your own private cabana.
SONOMA
Sonoma is Napa Valley's bigger, more laid-back neighbor to the west.
J Vineyards & Winery
An icon in the Russian River Valley for 35 Years, J Vineyards & Winery offers a stylish (and sparkling!) welcome to wine country. Chic tasting spaces and flavorful, Sonoma-inspired culinary pairing experiences showcase J's celebrated portfolio of sparkling wines, Pinot Noir, Chardonnay and more. Winemaker Nicole Hitchcock recommends visitors sip on a glass of the current Vintage Brut before diving into the Legacy Tasting upon a serene, shady garden terrace. The tasting blends luxury with wine country casual by pairing small-lot and reserve wines with an artisanal cheese plate.

J Vineyards & Winery gives guests a taste of extraordinary Russian River Valley wines paired with innovative culinary delights.

"There are five cheeses, each topped with their own house-made accompaniments — which can be anything from spiced fresh fruits with roasted almonds, to sesame-brown butter nut brittle, to a silky chocolate fudge," Hitchcock says. "It pairs beautifully with both our varietal and sparkling flights, highlighting different flavors and textures with each wine."

All in all, no matter what region you're exploring, make sure to spend this summer in California wine country, and toast to something truly golden.