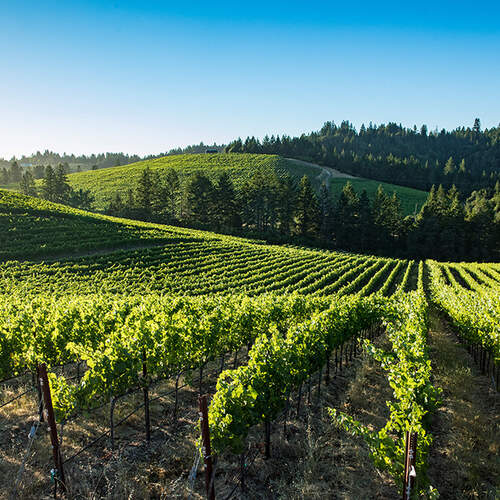 Since 1986, J Vineyards & Winery has developed a reputation as one of the top sparkling and varietal wine producers in California. Known for its celebrated estate vineyards and world-class hospitality, what truly sets J apart is its Traditional Method sparkling process and elevated winemaking techniques.

At J, they believe wine, like food, is multidimensional. It is far more than just something to be consumed – it tells our most human stories and forms part of our culture, identity, and community. It takes us on a journey and opens our eyes to a world beyond our glass.
Winemaker Nicole Hitchcock
Awarded the 2022 Winemaker of the Year Wine Star Award by Wine Enthusiast magazine, Nicole showcases her expertise and the diversity of California winegrowing regions through a portfolio of acclaimed varietal and sparkling wines. Born and raised in Carmel, California, Nicole first discovered her passion for wine while working alongside well-respected restaurant sommeliers. What drew her in especially was the worldwide appeal and diversity of wine. "Wine is like a universal language. It can transcend physical and cultural boundaries, and ultimately brings people together," Nicole explains. "From early on, I was enamored by all parts of the industry and process — the journey from vine to glass, the varying tastes, and the cultural aspects."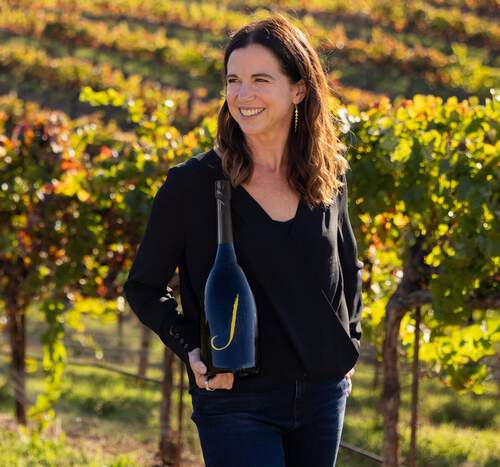 J Cuvée 20 Brut opens with nuanced aromas of fresh sourdough bread, green apple, tangerine and almond. A dance of bubbles leads to a focused palate that delicately balances sweet and tart notes of raspberry, cherry, wild strawberry and lemon rind, whisked away by a crisp and lively finish. Pair this versatile sparkler with Asian shrimp dumplings with yuzu glaze or Stilton cheese with toasted hazelnuts.
We apologize but this product can not be shipped to your selected state.
J Vineyards Russian River Valley Pinot Noir V21 750ML
Crafted from up to 100 individual small lots, the appealing 2021 Russian River Valley Pinot Noir captures the classic characteristics of this renowned variety and region. Deeply layered and velvet-smooth, offering notes of perfectly ripe blackberry, black cherry, dark plum and cranberry that blend with hints of toast, spice, lavender and rose. Rich oak sweetness characteristics feature on the midpalate, while soft tannins add intriguing texture. Bright and refreshing on the finish.
We apologize but this product can not be shipped to your selected state.
J Vineyards California Pinot Gris V22 750ML
Our 2022 California Pinot Gris is delightfully aromatic, approachable and bright. Generous aromas of jasmine and honeysuckle offer a fragrant, floral introduction, while the crisp and inviting palate is highlighted by layered hints of white peach, pear, kiwifruit and lime zest. A fleshy mid-palate with vibrant citrus and mango characteristics adds depth before the crisp, mouth-watering finish. The wine's lively acidity makes it an ideal partner for food. Try this alongside a green mango salad, Thai chicken kabobs or spicy grilled shrimp.
We apologize but this product can not be shipped to your selected state.