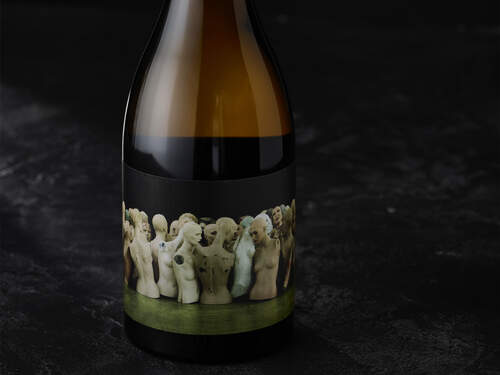 The history of Orin Swift Cellars dates back to 1995 when on a lark, David Swift Phinney took a friend up on an offer and went to Florence, Italy to spend a semester "studying". During that time, he was introduced to wine, how it was made, and got hooked. A few more years of university led to graduation and eventually a job at Robert Mondavi Winery in 1997 as a temporary harvest worker.

Deciding that if he was going to work this hard, it would eventually have to be for himself, he founded Orin Swift Cellars in 1998; Orin is his father's middle name and Swift is his mother's maiden name. With two tons of zinfandel and not much else, he spent the next decade making wine for others as well as himself and grew the brand to what it is today.
Orin Swift 8 Years in the Desert 750ML 2021
Being stranded in a desert leaves a lot to be desired — how to get back home, where to find food, water and shelter, and thoughts of survival. For eight years in the early 2010s, Orin Swift Cellars was barred from making any Zinfandel wines. From the grape that started everything OSC, the 'desert' gave us an opportunity to explore the diverse range of California's grape varietals. But, as soon as those eight years were up, we had a plan in place to pay homage to our home. The 2021 Eight Years in the Desert marks the sixth iteration of our return to the world of Zinfandel. <br><br> A deep maroon core with a ruby rim, the 2021 Eight Years in the Desert opens with aromas of wild blackberry, pepper, oatmeal raisin cookie, Sequoia forest floor, bay leaf and spices. The entry is broad and opulent with a mid-palate of brambly raspberry, black cherry, ripe blueberry and a hint of cacao. The wine has superb length through the finish with ripe tannins and a close of sweet oak.
We apologize but this product can not be shipped to your selected state.
Orin Swift Papillon 750ML 2020
Dichotomous in nature, Papillon is our ode to the old world. A five varietal Bordeaux-blend, it is many things in one—an approachable yet ageable wine; a hedonistic yet nuanced wine; a piece of art yet just a bottle of wine. 2020 was a tough year in many respects with winemaking being the least of them. But the challenges of the growing season resulted in even more rigorous tastings and blending sessions. What has resulted is a wine worthy of the Papillon label. Sourced from across the Napa Valley, we incorporated fruit from several noteworthy vineyards—Morisoli, Taplin, Lewelling, Stagecoach, Indian Joe—and even from the Monte Rosso vineyard on Moon Mountain. <br><br> Our good friend and fellow winemaker, Greg Gorman, photographed the label. <br><br> <b>WINEMAKER'S NOTES</b><br> The dark crimson core and brick rim sets the stage, as aromas of currant, blackberry, blue fruits, anise, lavender and brioche float from the glass. Enveloping and coating becomes mixed berry pie, sarsaparilla, cola and blackcurrant with structured heft through the mid-palate. Chalky tannins a la black tea or baking chocolate round out the wine with a pleasing finish of sweet oak.
We apologize but this product can not be shipped to your selected state.
Blending trials for Machete are amongst the favorite for each vintage. A Petite Sirah-based wine, the trial tastings leave everyone with purple teeth and a puckered palate. It can also be the most exhausting. However, after various tastings and blend iterations, the 2020 Machete is true to the style of being approachable for the highly tannic and visceral varietal. Prominent vineyards across the state make up the blend including the Frei Ranch, Barrelli, Snows Lake, Monte Rosso, Dark Horse, Stones Throw, Zaca Mesa and Summerwind vineyards. <br><br> A dark mauve core with a neon purple rim, the wine stains everything. Opening aromatics on the 2020 Machete are gorgeous immediately: ripe pluot, carne asada, new cowboy boots, lilacs, espresso bean and wet concrete. On the palate, layers upon layers reveal themselves, from a plum galette topped with fior di latte gelato to 85% cacao dark chocolate to barbequed tri-tip and sweet oak. Puckering tannins to finish, the wine closes on a high note with a touch of blood orange zest and lingering acidity.
We apologize but this product can not be shipped to your selected state.