Four Simple Tips for a Festive Holiday Tablescape
Hosting the holidays? Allow our wines to set the tone for your tablescape. Explore recipes, pairings, and simple tips below to kick off a delicious holiday season.
1. Keep it Simple! Stick to One Color
When planning your tablescape, a great place to start is the color theme. We recommend keeping it simple with one color (your wines will provide a pop of red and white, so we can already eliminate those colors—yay!). Let's go green for the Christmas tablescape and use a warm, orange hue for the Thanksgiving tablescape. Choosing a color upfront makes shopping and scavenging for décor far less daunting.

2. Tag Your Pairings
Once you have the menu planned, you'll want to select the best wines to pair with each dish. With your best wine for Thanksgiving and Christmas in hand, tie a gift tag around each bottle and list the food that pairs with that varietal. This will help guests as they decide which wine to pour while offering a fun pairing experience. Start with these suggestions:

Pair Brussels sprouts with Cabernet Sauvignon
Pair Mashed Potatoes with Chardonnay
Pair the Turkey with Pinot Noir
Pair Gingerbread Cookies with Zinfandel

3. Gather the Décor from Your Own Backyard
When creating a holiday tablescape, look no further than nature to supply the décor. Pine cones and acorns are easy to find this time of year. Brush them off and add a coat of gold or silver spray paint. Once dry, they'll be worthy of your table. Bonus: Give guests a parting gift! Create ornaments by adding a simple string to each one, and a little piece of the tablescape is theirs to keep for holidays to come.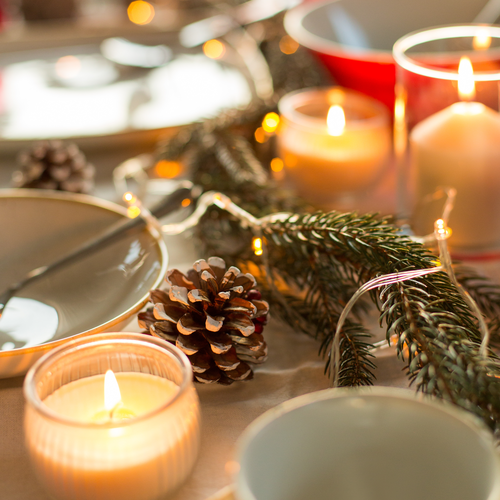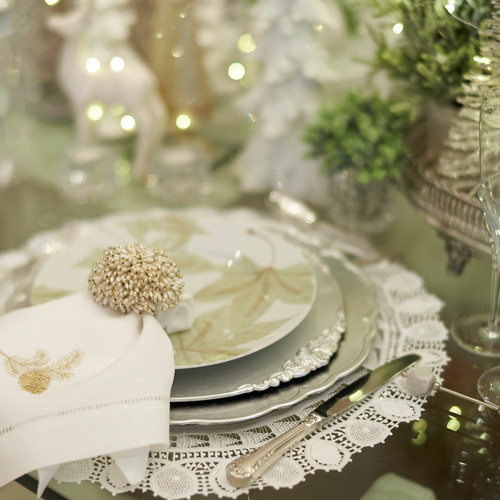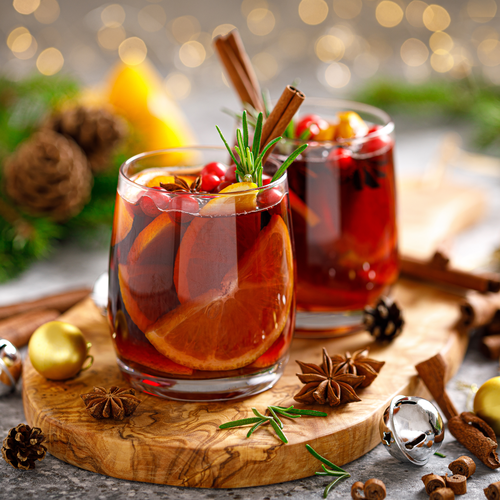 4. Add Garnish to Your Garland
When it comes to wine table décor, it doesn't get more festive than mulled wine; its rich, red color, cinnamon sticks, cranberries, and orange peels make it the ultimate holiday wine & liquor masterpiece. Try your hand at the recipe below to instantly elevate the tablescape. Bonus: Adding garland to the table runner? String it with cinnamon sticks and cranberries. Throughout the meal, guests can untie a garnish and add it to their Christmas wine or cocktail.
Ingredients
1 bottle Apothic Inferno
(May also use Merlot, Zinfandel, or Grenache)
2 oranges, sliced into rounds
6 whole cloves
6 cinnamon sticks
1 three-star anise
2 oz. Bourbon
1/2 cup honey

Directions:
1. Combine the wine, 1 orange slice, all 6 cloves, 3 cinnamon sticks, the three-star anise, Bourbon, and honey in a medium saucepan.
2. Bring to a simmer (not a boil) over medium heat
3. Turn to low and simmer for 10 minutes, stirring occasionally
4. Serve warm with remaining orange rounds and cinnamon sticks as garnish
Creating the perfect holiday tablescape is simple, especially when you keep your favorite Christmas wines and Thanksgiving wines close by! Want more holiday entertaining inspiration? Shop our Holiday Gift Guide, Wines to Impress, and Lively Holiday Spirits.