Shake up the Season!
Introducing Your Fall Cocktails Guide
The perfect fall cocktail is just a shake, stir, and sip away. Whether you want to get cozy with a hot toddy or sweeten the season with Moscato and cinnamon, our recipe guide has wine cocktails for every occasion.
---
Firewater Cocktail
Bring a touch of class to cozy season with a Firewater Cocktail in a coupe glass. With autumnal flavors of maple, vanilla, and spice, Apothic Inferno wine is splendid on its own, but combined with scotch, cherry liqueur, and a garnish? Your beautifully blended fall wine cocktail awaits.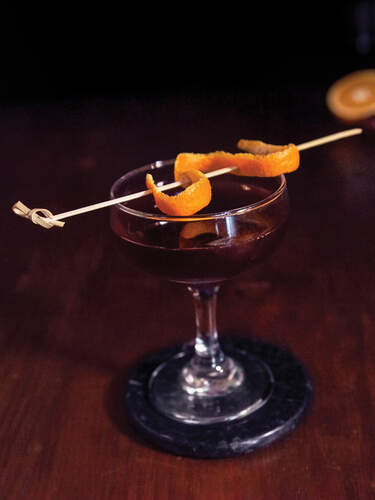 Ingredients
---
2oz. Apothic Inferno
1/2 oz. John Barr Blended Scotch
1/2 oz. Cherry Liqueur
1/2 oz. Fresh Orange Juice
Directions
---
1. Add ingredients into an ice-filled cocktail shaker and shake together to combine/chill.
2. Strain into a chilled coupe glass and garnish with an expressed orange peel.
Apple Pie Infusion
Perfect for a Friendsgiving celebration, the Apple Pie Infusion cocktail combines Barefoot Moscato, cinnamon schnapps, apple juice, and honey. You won't find a wine cocktail that tastes more like fall than this one. Pass the pie!
Ingredients
---
2 oz. Barefoot Moscato
2 oz. apple juice
3 tsp. honey
½ oz. clear cinnamon schnapps
Cinnamon & sugar mixture, to garnish
Directions
---
1. Dip the top of a fresh cocktail glass in the cinnamon-sugar mixture to coat the rim. (PRO TIP: dip in honey first for a more generously-coated glass.) Set aside.
2. In a cocktail shaker with ice, combine liquids. Shake to blend and chill.
3. Strain into your cocktail glass and serve immediately.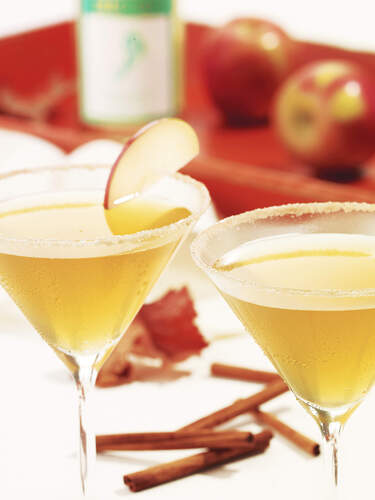 The M9 Hot Toddy
A cool weather staple, the hot toddy has been popular for centuries. But have you ever made a hot toddy with Rosé? The M9 Hot Toddy takes the classic ingredients (whiskey, lemon, honey, and cinnamon) and adds crisp, refreshing and smooth Maison No. 9 Rosé. Your favorite summer wine just slipped its way into fall.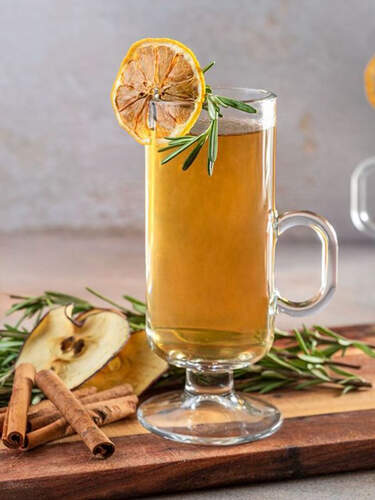 Ingredients
---
1.5oz Maison No. 9
1.5oz Whiskey
.75oz Lemon Juice
.5oz Honey
1 Cinnamon Stick
Directions
---
1. Add all ingredients including cinnamon stick to a mug and top with boiling water.
2. Stir with a cinnamon stick and garnish with rosemary and lemon.
Sweater Weather Sipper
While you're busy baking pies, stir up a Sweater Weather Sipper. Made with Barefoot Cabernet Sauvignon, Brandy, blackberries, brown sugar, and tea, this bold and fruity wine cocktail pairs warmly with your favorite fall mug.
Ingredients
---
(1) 750mL bottle Cabernet Sauvignon
4 oz. E&J Gallo Brandy
6 oz. package fresh or frozen blackberries
1 cup brown sugar
1 single bag chai tea
1 cup water
Directions
---
1. Place fruit, sugar and water into a saucepan over medium high heat. Bring to a boil and add tea bag. Stir continually.
2. Mash blackberries to release juice into the boiling liquid. Hard simmer for 5 minutes and remove from heat.
3. Remove tea bag and fine strain the liquid to remove all fruit pulp. Return liquid to saucepan.
4. Add Cabernet Sauvignon and brandy to the mixture. Heat to a low simmer. Remove from heat.
5. Pour into heat-proof mugs and serve warm.
Yields approx. 8 servings