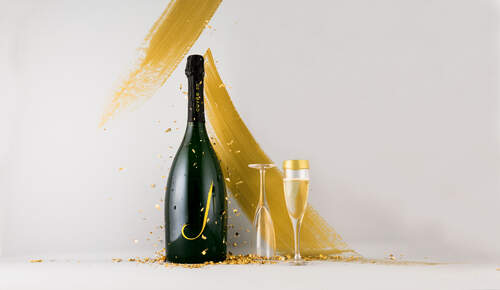 J Cuvée 20 Brut opens with nuanced aromas of fresh sourdough bread, green apple, tangerine and almond. A dance of bubbles leads to a focused palate that delicately balances sweet and tart notes of raspberry, cherry, wild strawberry and lemon rind, whisked away by a crisp and lively finish.
Wine and Food
Sparkling Wine Pairings
From popped corn, to cup cakes - pair your bubbly with the foods that make you happy.
Red Wine Pairings
Classically paired with a good steak, discover the world of dining options that pair well with reds.
Discover Your New Favorite Sparkling Wine
From brut, to prosecco, to sparkling rosé - find a new favorite bubbly.
Celebrating Sparkling Wine
Sometimes, it's time for something different. That's the time for bubbles! They're not just for New Year's Eve or celebrations anymore. Our favorite part about enjoying a good glass of bubbly is the crisp, refreshing taste that can cleanse and excite your palate, making these wines great with food and even better with friends.
- The Barrel Room Staff