Ingredients
---
• (2) 6oz. filets
• 3 Tbsp. unsalted butter
• 1 Tbsp. olive oil
• 1 cup chicken stock
• 1 Tbsp. beef demi-glace
• 6 oz. mushrooms, chopped
• Salt and pepper

Directions
---
Mushroom Sauce:
1. Preheat oven to 450°.

2. Melt 2 Tbsp. butter in a large skillet and add mushrooms. Cook and season with salt and pepper.

3. Add chicken stock and demi-glace and bring to a boil. Simmer until thickened.

4. Whisk in remaining butter.

5. Set the sauce aside and keep warm.

Steaks
1. Clean your skillet and reheat over medium-low heat.

2. Rub the steaks with olive oil, salt, and pepper.

3. Sear over medium-high heat for 2 minutes on each side.

4. Transfer the skillet to the oven and cook the steaks until a thermometer reads 130°F.

5. Remove from oven and let rest for a few minutes.

6. Serve with the mushroom sauce and enjoy.
Italian Sausage and Green Pepper Pizza
Pair with Merlot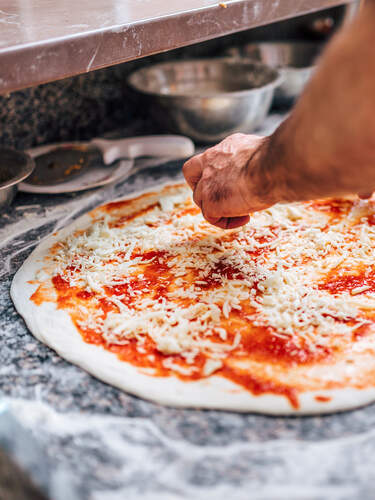 Ingredients
---
Pizza Dough:
• 1 ¾ cup All-purpose Flour (Plus extra for rolling)
• 2 ¼ cup High Gluten Flour
• 2 ¼ tsp. Active Dry Yeast
• 2 tsp. Kosher Salt
• 1 ½ c Water, Room Temperature
• ¼ cup + 1 Tbsp. Extra Virgin Olive Oil

Pizza Sauce:
• (1) 28 oz. Can Crushed Tomatoes
• 2 Garlic Cloves, Minced
• 1 tsp. Dried Oregano
• 1 Tbsp. Fresh Basil, finely chopped
• 2 Tbsp. Extra Virgin Olive Oil
• 2 tsp. Salt
Directions
---
Pizza Sauce:
Combine all ingredients in mixing bowl and mix well. Set aside.

Pizza
1. Roll out dough on well-floured pizza peel, one at a time, to a 12" circle.

2. Apply sauce as desired, then sprinkle on cheeses. Arrange the sausage and peppers on top, then shake off of the peel and onto a pizza stone.

3. After 5 minutes of baking, check the bottom of the crust. If spots are baking faster than others, carefully rotate the pizza and continue to bake until bottom is golden brown.

4. Remove from oven and sprinkle with parmesan cheese.

5. Allow pizza to cool slightly before cutting.

*Note: If you are using an outdoor wood-fired pizza oven, the pizza will cook much faster.