Sugar Cookies
Start with the age-old classic: sugar cookies shaped like snowflakes, jingle bells and snowmen. Pair with another classic, Chardonnay, for the perfect sweet and creamy holiday treat!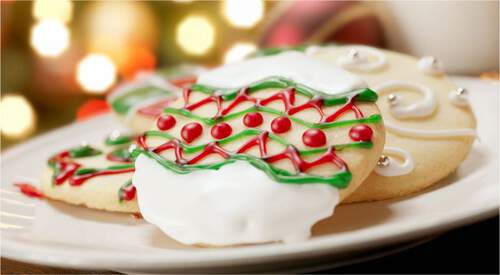 Ingredients
• 3 cups all-purpose flour
• 2 tsp baking powder
• 1 cup unsalted butter, softened
• 1 cup granulated sugar
• 1 large egg
• 2 tsp vanilla extract
• ½ tsp salt

Makes approximately 3 dozen cookies.
Directions
1. In a large bowl, whisk together flour, baking powder and salt. Set aside.
2. Using a hand beater or electric mixer, cream butter and sugar together until fluffy. Add egg and vanilla and continue to mix until combined.
3. Slowly add the dry ingredients to the wet mixture and mix until a dough is formed.
4. Separate the dough into two halves, wrap each half in wax paper or saran wrap, mold into a disk and chill in the refrigerator for 1-2 hours. (NOTE: Chilling the dough will help the cookies keep their shape.)
5. When dough is chilled, preheat oven to 350℉.
6. Dust a clean, flat surface with flour and roll out one of the dough halves to ¼ inch thickness. Continue to add flour to top and bottom of rolled out dough as necessary to combat stickiness.
7. Use your favorite holiday cookie cutters to cut out shapes before carefully transferring cookies to a lined, greased baking sheet (we like to use a spatula for this.)
8. Bake cookies until edges just begin to golden—this could take anywhere from 8 to 15 minutes, depending on the size of your cookies. Keep a close watch.
9. Cool completely on a wire rack before decorating.