Mushrooms stuffed with garlic, shallots, two cheeses and herbs is a decadently delicious appetizer, especially when paired with your favorite Pinot Noir.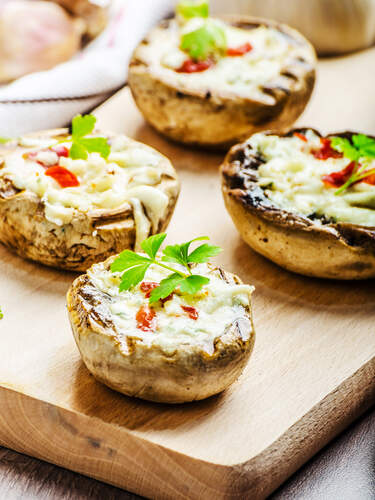 Ingredients
• 1 lb. portobello mushrooms
• 2 Tbsp. olive oil
• 4 oz. cream cheese
• 1 egg
• 3 garlic cloves, minced
• 1/4 cup bread crumbs
• 1 shallot, diced
• 1/2 cup Parmesan cheese, grated
• 1 Tbsp. cilantro, minced
• Salt and pepper, to taste


Directions
1. Preheat the oven to 350°F.
2. Wash mushrooms by hand.
3. Lightly grease a baking dish.
4. De-stem the mushrooms and coat the caps in 1 Tbsp. olive oil. Save the stems in a small bowl for later!
5. Heat 1 Tbsp. olive oil in a skillet. Add shallot, mushroom stems, and garlic.
6. Once tender, move the shallot, mushroom, and garlic into a small bowl. Combine with cream cheese, bread crumbs, Parmesan cheese, cilantro, egg, salt, and pepper.
7. Arrange mushroom caps in a baking dish and fill each with the cream cheese mixture.
8. Bake for approx. 20 minutes, then sprinkle with parmesan cheese before serving.