Sticky Toffee Pudding
The bold tannins and dark fruit flavors found in Cabernet Sauvignon
are a perfect complement to the rich taste of sticky toffee pudding.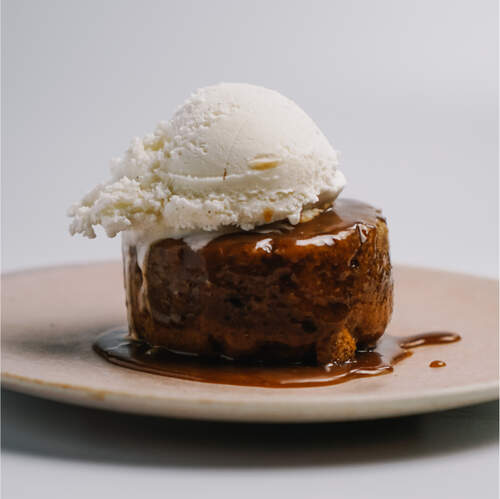 Toffee Sauce Ingredients
• 1 ¼ Cup Heavy Cream
• ½ Cup Sugar
• ¼ Cup Light Corn Syrup
• 2 Tbsp Butter
Toffee Sauce Directions
1. Combine sugar and corn syrup in medium saucepan and cook over medium heat until color begins to develop.
2. Remove from heat and carefully add butter, then heavy cream.
3. Be sure to whisk thoroughly to incorporate cream.
4. Keep warm and set aside until needed.
Sticky Toffee Pudding Ingredients
Servings: 8

• 1 Cup All Purpose Flour
• 3 Ounces Unsalted Butter
• 1 tsp. Baking Powder
• 1 Pinch Baking Soda
• ½ Cup, plus 2 Tbsp Brown Sugar
• ¾ tsp. Vanilla Extract
• 1 Each Egg
• 1/8 tsp. Orange Zest
• ¼ tsp. Salt
• 10 Ounces Pitted Medjool Dates
• 1 Cup Water
Sticky Toffee Pudding Directions
Preheat Oven to 350
1. Combine dates and water together in medium saucepan, then bring to a boil.
2. Remove from heat and allow to cool. Place dates and water in a blender and blend on high until it forms a smooth paste.
3. In bowl of an upright mixer, cream together the butter and brown sugar until light and fluffy. Carefully add the eggs, vanilla extract and date purée. Continue to mix until incorporated.
4. Add remaining dry ingredients and mix until incorporated.
5. Spray half-cup ramekins with nonstick cooking spray, then scoop batter into them until they are ¾ full.
6. Place in oven and bake for 18 – 20 minutes.

The Finishing Touches
1. Remove muffins from ramekins and set aside. Fill ramekins with toffee sauce until ¼ full, then place muffins back in ramekins.
2 When ready to serve, place ramekins back in oven for about 3 minutes. When ready, while still warm, invert ramekin on to a plate and carefully pull the ramekin off the muffin, allowing the toffee sauce to drizzle over the muffin and plate.
3. Top with your choice of ice cream or whipped cream and enjoy.