Squash Soup
Begin your fall feast with soup and a Chardonnay. The rich and toasty notes complement the creamy, slightly sweet, and nutty flavors of butternut squash soup. Raise your spoon (and a glass) to this delicious pairing.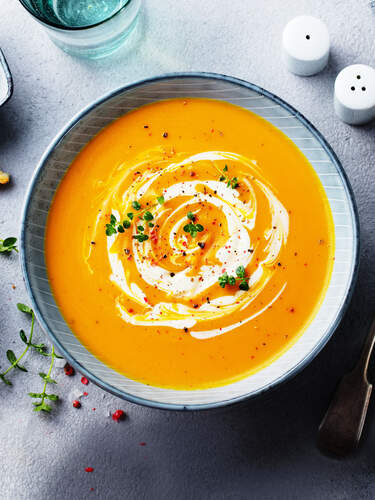 Ingredients
Vegetable oil
• 1 onion, diced
• 1 medium butternut squash, peeled, seeded, and cubed
• 1.5 tsp. kosher salt
• 4 cups chicken broth
• 1/2 cup heavy cream
• Sour cream, for topping

Directions
1. Heat 1 Tbsp. of oil to a large pot over medium heat and add onion. Cook until softened.
2. Add squash and 1 tsp. salt. Stir to coat.
3. Add chicken broth and 1 cup of water. Bring to a boil over high heat.
4. Reduce heat to medium and cover pot.
5. Cook for about 20 minutes, stirring occasionally.
6. In small batches, pour mixture into a blender and purée. When complete, pour the purée into the pot.
7. Add heavy cream and 1/2 tsp. salt. Stir and simmer for 5 minutes.
8. Serve with a dollop of sour cream.