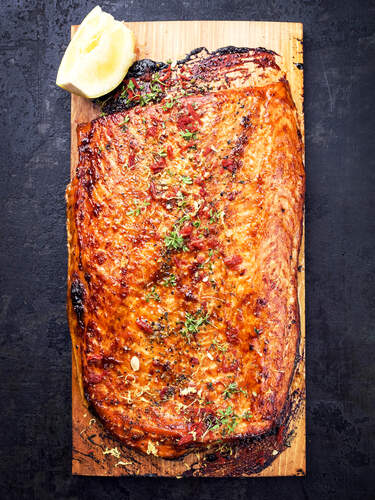 Ingredients
• 3 tablespoons toasted wheat germ
• 1 tablespoon yellow mustard seeds, crushed
• Four 6-ounce skinless salmon fillets
• Salt and freshly ground pepper
• 2 1/2 tablespoons Dijon mustard
• 1 1/2 teaspoons dry mustard
• 1 tablespoon canola oil

Directions
1. In a shallow dish, combine the wheat germ and mustard seeds. Season the salmon fillets with salt and pepper. In a bowl, blend the Dijon mustard with the dry mustard and spread it over the skinned side of the fillets. Dip the mustard side of the fillets in the wheat germ mixture until thickly coated.

2. In a nonstick skillet, heat the oil until shimmering. Add the fillets, crust side down, and cook over moderately high heat until browned and crisp, 3 minutes. Turn the fillets and cook over moderate heat until barely cooked in the center, 3 minutes longer. Transfer the salmon to plates and serve crust side up.

Recipe courtesy of Food & Wine
Ingredients
• 3-4 vine tomatoes
• 1/3 cup fresh basil
• 1 ball of fresh mozzarella
• 2 Tbsp. olive oil
• Salt and pepper, to taste

Directions
1. Slice tomatoes and mozzarella as you please—there's really no wrong way to do it!

2. Arrange tomatoes and mozzarella on a plate and scatter basil leaves (chopped or whole) on top.

3. Drizzle olive oil evenly and add a dash or two of salt and pepper.
Ingredients
• (1) 15 oz. can of chickpeas
• 2 garlic cloves, minced
• 1/3 cup tahini
• 2 Tbsp. olive oil
• 1/3 cup lemon juice
• 1/2 tsp. ground cumin
• Salt, to taste
• 1-3 Tbsp. water

Directions 1. Combine lemon juice and tahini in a food processor or blender for approx. 1 minute.

2. Toss in the olive oil, garlic, cumin, and 1/2 teaspoon of salt. Process for approx. 1 minute.

3. Drain and rinse the canned chickpeas. Add half of the chickpeas to the food processor and process for approx. 1 minute, then add remaining chickpeas and process until smooth. If the hummus is not your ideal consistency, add water—tablespoon by tablespoon—and continue to process.

4. Serve with your favorite vegetables, warm pita, or pretzels.