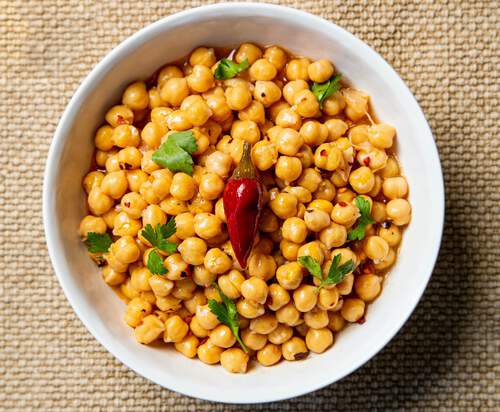 Ingredients
• 2 15-oz cans chickpeas
• 2-3 Tbsp olive oil
• Salt to taste
• 1-2 tsp cumin
• 1-2 tsp smoked paprika
Directions
1. Thoroughly dry chickpeas with a paper towel by blotting them carefully.

2. In a medium to large bowl, toss chickpeas with olive oil, and season to taste with salt.

3. Spread on a baking sheet, and bake for 35-45 minutes, until browned and crunchy. Less time will make it chewy, more time will make it crunchy.

4. Toss baked chickpeas with cumin and paprika to taste.

5. Garnish with parsley and decorative pepper (optional).