Philly Cheesesteak
The medium to high acidity of Cabernet Sauvignon, Syrah, or GSM complements the rich fats of a cheesesteak remarkably well. Whether you take it with or without onions, this pairing shouts Philly Special!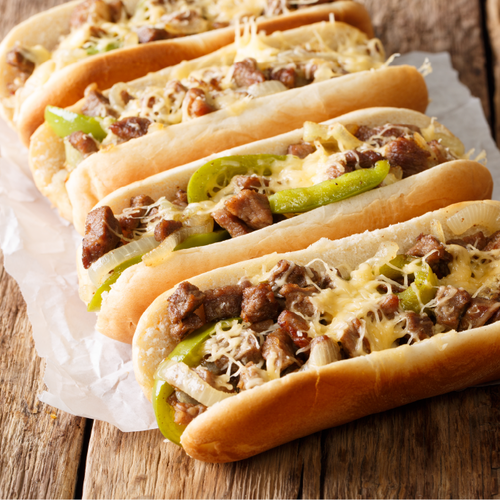 Ingredients
• 2 Tbsp. olive oil
• 2 cups onions, diced
• 1/2 tsp. salt
• 1/2 tsp. ground black pepper
• 1.5 lbs. thinly sliced ribeye steak
• 10 slices Provolone, American cheese, and /or Cheez Whiz
• (4) 6-inch hoagie rolls (those are the long ones!)
Directions
1. In a large skillet, heat olive oil on medium heat.
2. Add onions and cook until translucent, then set aside.
3. Add steak to the skillet and cook for approx. 5 minutes, or until it's no longer pink.
4. Drain the fat from the skillet and return to heat.
5. Stir the onions in with the steak and remove from heat.
6. Place your cheese of choice on top of the onions and steak and let melt before stirring it all together.
7. Grab a spatula and serve your steak in a hoagie roll!