Marinated Pork Chops
Not only do we pair our Pinot Noir with pork chops, but we cook with it too! This beautifully balanced, fruit-forward red varietal enhances the subtle, savory flavors of a chop without overpowering them.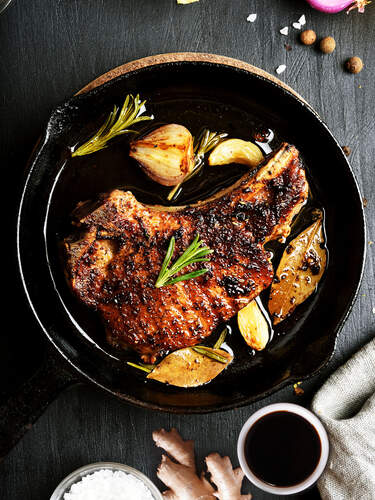 Ingredients
• 4 pork chops
• ¼ cup Pinot Noir
• ¼ cup olive oil
• ½ cup soy sauce
• 1 tsp. ginger, minced
• 1 tsp. garlic, minced
• 3 Tbsp. brown sugar
• 1 tsp. honey

Directions
1. In a saucepan, combine soy sauce, Pinot Noir, sugar, honey, garlic, and ginger. Bring to a simmer.

2. Mix these ingredients until the sugar dissolves, then allow to cool.

3. Next, whisk in olive oil. Pour this mixture over the pork chops and marinate for up to 12 hours.

5. Preheat the grill. Grill pork chops for 4-5 minutes on each side. Internal temperature should reach 150˚F. 6. Remove from grill and let chops rest for 5-10 minutes.

7. Serve with a side of roasted carrots or steamed asparagus.