A bounty of spice and herbs are married with succulent grilled duck and served ala nacho. Pair with your favorite Pinot Noir and enjoy the flavor sensation!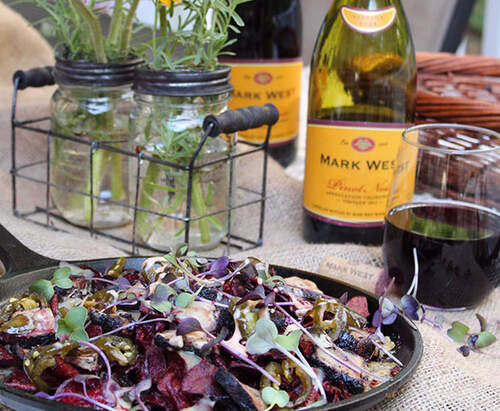 Ingredients
• 2 tsp Chile Molido, hot
• ½ tsp salt
• 1 duck breast, patted dry with paper towels
• ¾ cup Pinot Noir
• 1 Tbsp chili infused honey
• ¼ cup crème fraîche
• 1 tsp adobo sauce from a can of chipotles
• 12 ounces lightly salted beet chips (or mixed root vegetable chips)
• 5 ounces Taleggio cheese, diced
• ¼ cup candied jalapeños
• ½ cup daikon radish microgreens
Directions
1. Preheat a grill to medium-high. In a small bowl combine the Chile Molido and the salt. Using a sharp knife score the skin of the duck with 8-10 diagonal slashes then cut in the other direction. Rub the chili mixture over both sides of the duck breast.

2. In a small grill-safe saucepan whisk together the Pinot Noir and the chili-infused honey. Place the pan on the hot grill and cook until liquid is reduced to 2 tablespoons.

3. Meanwhile place the duck on the grill skin side down and cook for 3 minutes; watch carefully for flare-ups. Turn duck breast over and grill for an additional 3-4 minutes or to an internal temperature of 135 degrees. Let the meat rest for 5-10 minutes before slicing.

4. Stir together the crème fraîche and the adobo sauce.

5. To assemble, arrange the beet chips on a fire-safe pan such as cast iron. Carve the duck into slices, then cut each slice in half and arrange over chips. Scatter the Taleggio cheese over the chips and duck. Transfer nachos to the grill, cover and cook just until cheese is melted-about 3 minutes.

6. To serve, drizzle with adobo crema, top with candied jalapeños, drizzle with reduced pinot noir then top with microgreens; serve immediately.