Gingerbread Cookies
The sweets and spices in gingerbread are paired with another delicious melding of flavors; Red Blends. Complex and oh so decadent.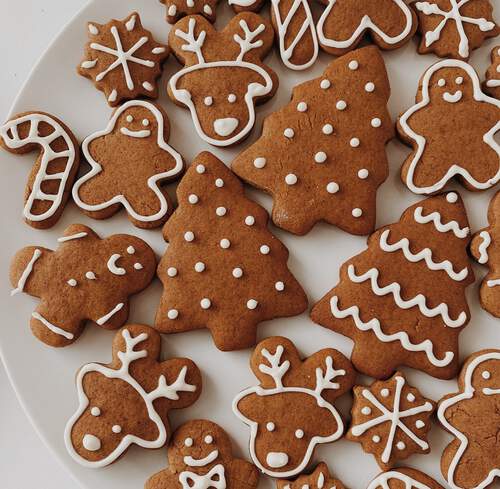 Ingredients
• 1 cup pumpkin puree
• 1 cup brown sugar
• 1 cup molasses
• 1 cup unsalted grass-fed butter
• 1 tablespoon baking soda
• 1 egg, lightly beaten
• ¼ teaspoon salt
• 2 teaspoons baking powder
• 1 tablespoon ground ginger
• ½ teaspoon ground cinnamon
• ½ teaspoon ground cloves
• 4 ½ cups flour, more for rolling dough
• Icing and candies for decoration, optional
Directions
1. In a saucepan, combine brown sugar, molasses, and butter. Place over medium-low heat and stir until mixture is melted.

2. Remove from heat and mix in baking soda and 1/4 cup cold water. Set aside and allow to cool to room temperature.

3. Add egg, salt, baking powder, ginger, cinnamon, and cloves and stir well. Add 4 cups flour and mix well—adding more if dough seems sticky.

4. Shape into a ball, cover and refrigerate for at least 2 hours, up to 24 hours.

5. Preheat oven to 350 degrees. Line baking sheets with parchment paper and set aside. Roll out dough on a lightly floured surface to 1/4-inch thickness and cut into whatever shapes you like. Arrange on baking sheets 1-1/2-inches apart.

6. Bake until risen and no longer shiny ~10 minutes.

7. Remove from heat and allow to cool.

8. Decorate with icing and candies.