Wild Horse Winery
Located in historic Templeton, California, Wild Horse Winery was named for the wild mustangs that roamed the hills east of the vineyard estate. Their free and noble spirit are a nod to Wild Horse Winery's commitment to spirited winemaking.
The Wild Horse Story
The Templeton vineyard and winery location was chosen in 1981 for its low vigor soils, proven ground water table, proximity to Estero Bay and rustic vibe. Situated at a midpoint in the Central Coast, this location is ideal for sourcing fruit from vineyards north and south of the winery. Wild Horse Winery remains a champion of Central Coast winegrowing, committed to sustainable viticultural practices and creating wines that express the region's diversity.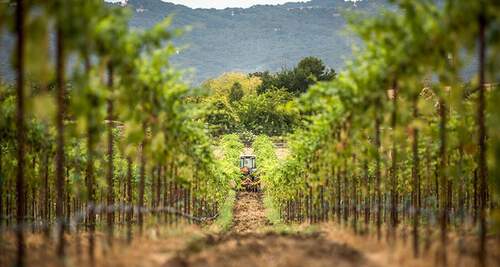 The Vineyards
The varieties of soil composition and microclimates that can be found within the expansive Central Coast appellation present the opportunity to cultivate the same varietal in a wide range of growing conditions. This fact forms a key philosophy for Wild Horse Winery winemaking: multi-vineyard sourcing. While estate or vineyard-designated wines are outstanding, they offer just one expression of the grapes. Growing the same varietal in different terroirs and then carefully blending the individual lots allows us a spice rack of flavors. The ability to taste vineyard-designated wines alongside these mult-vineyard sourced wines provides a true education and exploration of the varietal.
Tasting Notes
The 2021 Wild Horse Cabernet Sauvignon has dark cherry aromas with hints of vanilla bean, coconut and warm spices. Full bodied wine with sweet black fruit flavors, tea leaves and toasted oak. It has fine tannins and a pleasant astringency. The finish is long and smooth.

Winemaking Notes
We tried to let the fruit hang as long as needed to achieve the optimal flavors. The grapes were harvested in early morning, at the coolest time of the day. Then they were destemmed and crushed to tank were they fermented on skins until the optimal amount of tannin and flavor had been extracted. The wine was then pressed off of skins and aged in oak until the optimal flavors had been extracted before proceeding to being blended.