Crostinis with Marinated Mushrooms
Crostinis with marinated mushrooms are the natural pairing of flavors with your favorite Pinot Noir.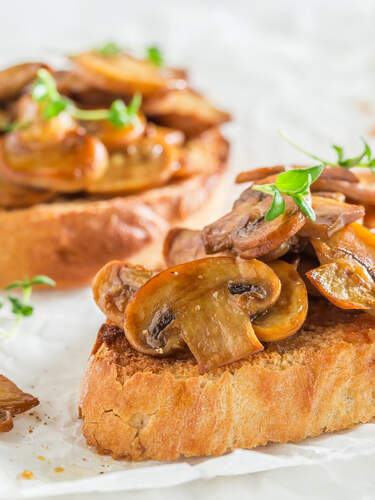 Ingredients
• 8 oz. baby Bella mushrooms
• 3 garlic cloves, sliced
• ⅓ cup olive oil
• ⅓ cup distilled white wine vinegar
• 2 bay leaves
• 1 tbsp. parsley, chopped
• ½ tsp. red pepper flakes
• 2 tsp. sugar
• ½ red onion, sliced
• 1 tsp. salt
• 12 whole peppercorns
• 1 fresh baguette


Directions
1. Salt a pot of boiling water and add mushrooms. Boil until tender.

2. Drain and rinse with cool water. Once cooled, slice and set aside.

3. In a 16 oz. Mason jar, combine parsley, garlic, vinegar, olive oil, bay leaves, sugar, peppercorns, salt, and red pepper flakes. Stir well with a spoon until the sugar and salt have dissolved.

4. Add onion and mushrooms and stir in to fully submerge. Place the Mason jar in a fridge overnight.

5. Remove Mason jar from fridge when you're ready to eat. Allow the mushrooms to come to room temperature as you prep the crostini.

6. Slice the baguette and toast slices on a skillet. Once toasted to your liking, remove from heat and top each slice with the mushroom marinade.

7. Drizzle with olive oil and serve!