Chocolate Soufflé
The rich and decadent chocolate flavor of a soufflé is enhanced by the dark fruit
and earthy notes of Pinot Noir, creating a perfect balance of flavors.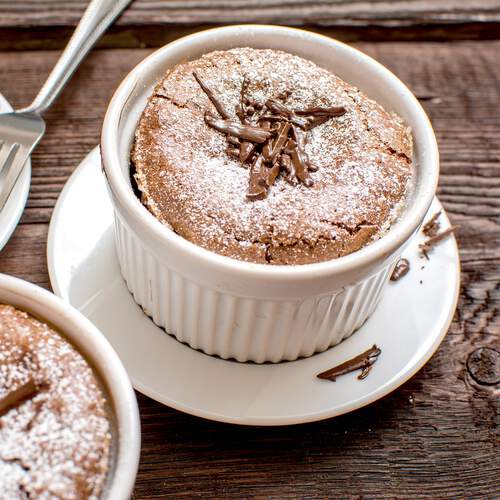 Ingredients
• 1 1/2 cups Chocolate Chips
• 1/3 Sugar
• 1 tbsp Vanilla
• 3 tbsp Butter; melted
• 6 eggs; yolks and whites separated
• 1 tsp Nutmeg
• 2 tsp Salt; separated
• 1/2 tsp Cream of Tartar
Directions
Preheat oven to 375°F.
1. Coat baking dish with melted butter and a sprinkle of sugar.
2. Separately melt chocolate and butter and add to baking dish.
3. Add yolks, nutmeg, vanilla, and 1 tsp salt. Whisk well.
4. In a separate bowl, beat egg whites until whipped. Add 1 tsp salt and cream of tartar while continuing to beat.
5. Add sugar and beat mixture until firm.
6. Slowly mix the egg whites into the chocolate mix, stirring while combining.
7. Fold mixture over itself, repeatedly until well combined.
8. Bake for 12-15 minutes or until thoroughly cooked through.
9. Carefully remove from oven and serve immediately.