Chocolate Chip Cookies
Gooey semi-sweet chocolate chips are the perfect pairing with the fruit
and earthy notes of Pinot Noir.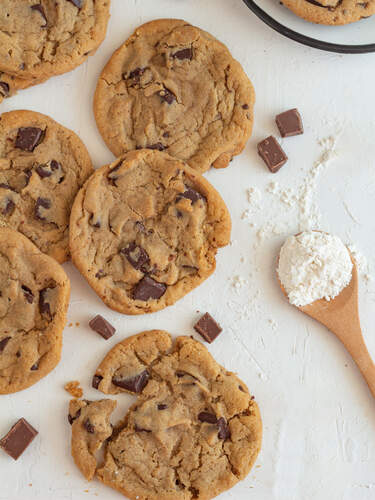 Ingredients
• 2 ½ cups all-purpose flour
• 1 tsp. baking soda
• ½ tsp. salt
• 1 cup unsalted butter, softened
• ¾ cup granulated sugar
• ¾ cup light brown sugar
• 2 large eggs
• 2 tsp. vanilla extract
• 2 cups (one bag) semi-sweet chocolate chips
Directions
1. In a large bowl, whisk together flour, baking soda and salt. Set aside.

2. Using a hand beater or electric mixer, cream butter, sugar and brown sugar together until fluffy. Add eggs and vanilla and continue to mix until combined.

3. Slowly add the dry ingredients to the wet mixture and mix until a dough is formed.

4. Carefully fold in chocolate chips. Cover dough and chill in the refrigerator for 1-2 hours (or overnight.)

5. When dough is chilled, preheat oven to 350℉. Allow dough to sit at room temperature for 10 minutes before scooping large spoonfuls and arranging them 2 inches apart on a lined, greased baking sheet.

6. Bake for about 10 minutes, but keep a close watch. Cookies are ready when edges just begin to brown. Cool completely on a wire rack before serving.