Cheesecake with Cabernet Glaze
This is decadence and deliciousness all in one bite. Paired with Cabernet Sauvignon, the cabernet glaze and sinfully smooth cheesecake will keep them coming back for more.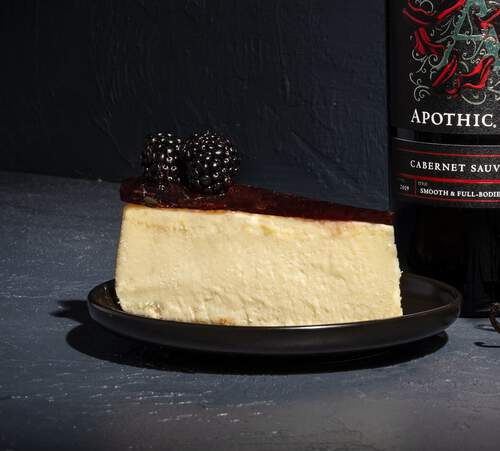 Ingredients
Crust
• 8 full sheets graham crackers
• 4 tablespoons unsalted butter (melted)
• 1 tablespoon sugar

Cheesecake
• 12 oz cream cheese, softened
• ¼ cup plain Greek yogurt, at room temperature
• 1 cup sweetened condensed milk
• 1 large egg at room temperature
• 2 tablespoons all-purpose flour
• 2 teaspoons pure vanilla extract
• 1/8 teaspoon salt
Wine Glaze
• 1 envelope unflavored gelatin
• ¾ cup Cabernet Sauvignon
• 2 tablespoons hot water
• ½ tsp vanilla
• 4 teaspoons sugar
Directions
1. Preheat the oven to 350°F (177°C).

2. Line 9" round baking pan with aluminum foil, leaving two sides hanging over the edges.

3. In a food processor, pulse the graham crackers into fine crumbs. (If you don't have a food processor, place the graham crackers in a Ziplock bag and roll a rolling pin over the graham crackers.)

4. Add sugar and melted butter and pulse until the crumbs are evenly moistened with butter. Transfer the mixture into the prepared baking pan. Evenly spread it, lightly pressing into the pan. Bake for 10 minutes and cool on wire rack.

5. In a large mixing bowl with whisk attachment, beat cream cheese, Greek yogurt, and condensed milk until creamy, about 2 minutes. Add the egg, flour, vanilla extract, and salt. Continue to whisk until well combined, about 2 minutes.

6. Pour the cream cheese mixture over the crust. Bake it until the filling is set but not browned, for about 25 minutes. Cool the cheesecake to room temperature (about 2 hours), then refrigerate for at least 2 hours to chill.

7. To make the wine glaze, sprinkle the gelatin over ½ cup of wine and let it sit for 5 minutes.

8. Meanwhile, stir in the sugar in the hot water. Add the sugar water into the wine with gelatin. At this point, the mixture will be a little cloudy. Mix well until gelatin is completely melted. (If needed, microwave for 30 seconds to warm the mixture up. The mixture should become clear.) Add the remaining ¼ cup of wine and cool the mixture to room temperature, about 5 minutes.

9. Gently pour the wine mixture using a back of the spoon over the cooled cheesecake. Refrigerate for at least 2 hours, or overnight, until the wine topping is set completely.

10. Slice, serve and enjoy!