BBQ Ribs
Pair these sweet yet spicy ribs with rich, full-bodied reds, like Zinfandel, Cabernet Sauvignon, and Malbec. The bold, dark fruit notes of these wines will enhance the rich, slow-cooked flavors in every bite.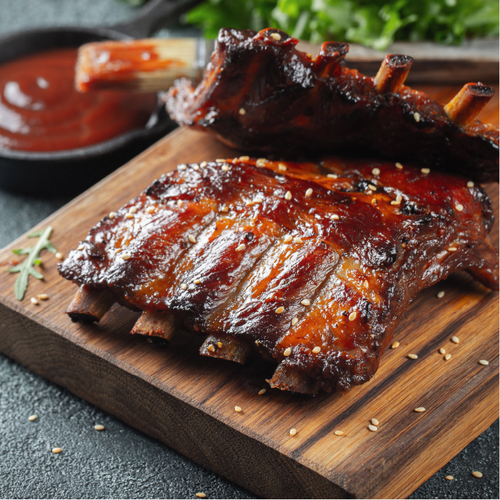 Ingredients
Dry Rub
• 1/2 cup brown sugar
• 1 Tbsp. onion powder
• 1 Tbsp. garlic powder
• 1 Tbsp. cayenne pepper
• 1 Tbsp. ground black pepper
• 1 Tbsp. salt
• 1/4 cup paprika
BBQ Sauce
• 4 Tbsp. butter
• 4 cups ketchup
• 2/3 cup molasses
• 2/3 cup brown sugar
• 2 onions, diced
• 5 garlic cloves, minced
• 2/3 cup apple cider vinegar
• 4 Tbsp. mustard (yellow or Dijon)
• 4 tsp. ground black pepper
• 1 tsp. salt
• 1 tsp. cayenne pepper
Directions
BBQ Sauce
1. Melt butter in a large saucepan over medium heat.
2. Add onion and cook until translucent.
3. Add garlic and cook until golden.
4. Add ketchup, vinegar, molasses, brown sugar, mustard, ground black pepper, and cayenne. Whisk to combine.
5. Bring to a boil, then immediately reduce to low heat. Simmer sauce until it thickens, stirring frequently.
6. Pour sauce into a blender and blend until smooth. Refrigerate until it's time to baste the ribs.


Ribs
1. Coat ribs with dry rub (both sides) and wrap in foil. Refrigerate overnight.
2. Allow ribs to come to room temperature. Preheat oven to 225°F.
3. Bake ribs in foil basket for 1 hour, then cover with additional foil.
4. Bake for another 2 hours, then baste the ribs with your prepared BBQ sauce.
5. Re-cover with tin foil and cook for a final 30 minutes. Internal temperature should read 200°F.