Baked Salmon with Maple Glaze
Baked salmon with a maple glaze is paired with Pinot Noir making a simple but elegant food and wine pairing.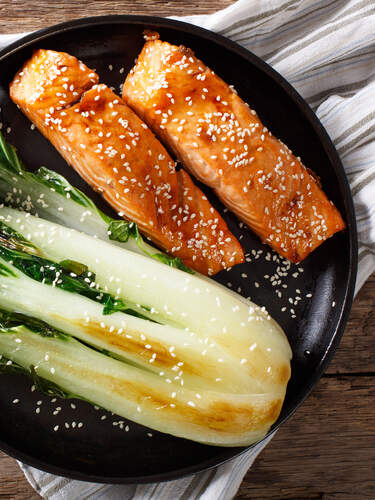 Ingredients
• 2 salmon fillets
• ¼ cup soy sauce
• ½ Tbsp. brown sugar
• ⅓ cup maple syrup
• 1 garlic clove, sliced
• 5 sprigs of thyme
• Fresh lime juice (1 lime)
• Olive oil
• Salt and pepper
Sesame seeds (optional)
Directions
Prepare the Salmon:
1. Preheat the oven to 400°F.
2. Place salmon fillets on a sheet tray lined with parchment paper.
3. Lightly drizzle salmon with olive oil and season with salt and pepper.
4. Bake for 12-15 minutes.

Prepare the Glaze:
1. In a small saucepan over medium heat, add maple syrup, soy sauce, brown sugar, garlic, lime juice, and thyme sprigs. Reduce by one-third, stirring occasionally. This should take about 5 minutes.
2. Remove thyme sprigs.

Serve:
Plate the salmon, brush with maple glaze and enjoy!