Apple Tart
The bright, citrus notes of Sauvignon Blanc complement the tart, sweet apples and provide the perfect finishing pairing.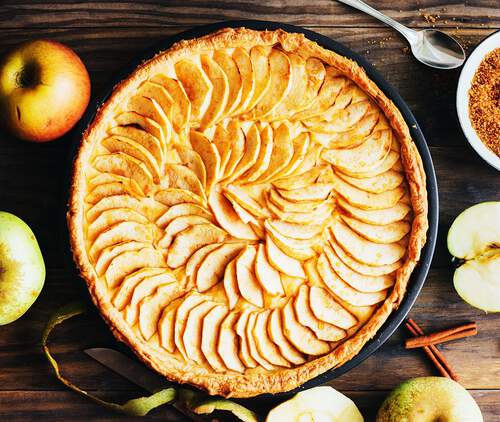 Ingredients
• 4-6 sliced apples, peeled
• 1.5 cups flour
• 1 Tbsp. flour 
• 12 Tbsp. unsalted butter, cut
• 2 Tbsp. unsalted butter, melted
• 1/3 cup cold water
• 3.5 Tbsp. sugar
• Salt
Directions
1. Pulse 1.5 cups flour with a pinch of salt in a blender or food processor.
2. Add cut butter and pulse for another 5 seconds.
3. Sprinkle water over the mix and pulse an additional 5 seconds.
4. Kneed dough on floured surface.
5. Roll out dough to 16 inches round and approx. 1/4-inch thick.
6. Line a large, rimless baking sheet with parchment paper. Add dough.
7. Combine 2 Tbsp. sugar with 1 Tbsp. flour and sprinkle over the dough.
8. Place apple slices in concentric circles atop the dough.
9. Brush apples with melted butter and sprinkle with 1.5 Tbsp. sugar.
10. Refrigerate tart for approx. 10 minutes before baking.
11. Preheat the oven to 400°, then bake tart for 1 hour.
12. Cool slightly before serving with a dollop of whipped cream.