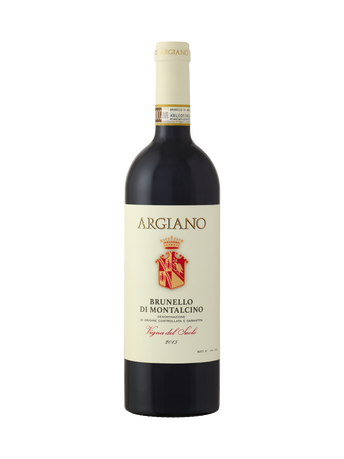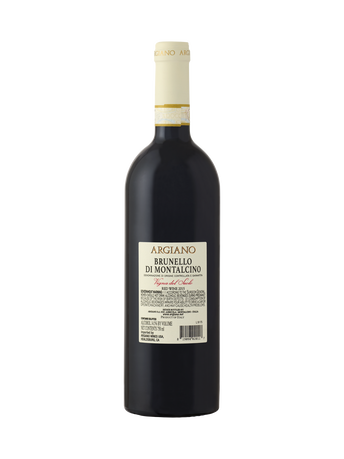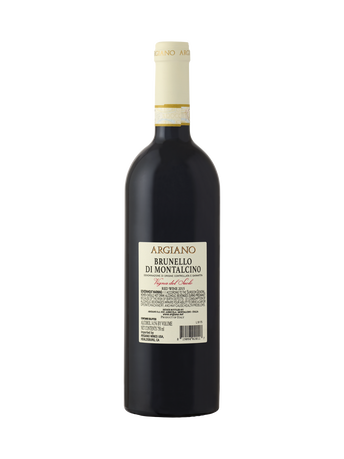 Click

Pinch

Pinch

to Zoom
Argiano Vigna Del Suolo Red Blend V15 750ML
96 Points from The Wine Advocate, January 2020
We will be in touch as soon as this item is available.
Unfortunately we are unable to ship to your state due to state regulations.
About this product
Argiano's Brunello di Montalcino is distinguished by its harmonious depth, elegance and length. Offering a deep ruby red color, vintage 2015 opens with complex aromas of fruits and florals, herbs and earth. On the well-structured palate, juicy notes of cherry, plum and blackberry blend with hints of soft leather and licorice. Medium-bodied, this Brunello has fine, soft tannins, refreshing acidity and a persistent, lingering finish.
UPC: 081909802011
SKU #: 000000000110009603
Critics Review
96 Points
from The Wine Advocate
,
January 2020
Here's an exciting addition to the Argiano portfolio. The Suolo vineyard is this estate's highest site (at 300 meters above sea level), and the soils are heavily calcareous in character, imparting cool aromas and freshness. This site is also home to Argiano's oldest Sangiovese vines, now 65 years old. In 2000, Argiano started bottling this fruit as an IGT Toscana wine simply called Suolo, and that wine consistently ranked as one of the most elegant expressions of Sangiovese to come from Montalcino. Starting with this vintage, that fruit is now part of an appellation wine. The 2015 Brunello di Montalcino Vigna del Suolo shows the same elegance and crisp, streamlined appeal that we associate with this site. This Brunello shows an upfront and precise level of intensity that is backed by slightly more structured tannin. Its core is packed tight with wild berry, cassis and pretty herbal notes. As the wine takes on more air in the glass, it begins to show delicate layers of spice, smoke and tar. It ages in individually selected 10-hectoliter oak barrels for a long 36 months. What the wine needs now is a few more years of cellar aging.
95 Points
from James Suckling.com
,
November 2019
Very floral on the nose with plums, rose petals and freshly sliced porcini mushrooms. The palate is tight and compressed with beautiful ripe fruit, wet earth and cool, stone flavors. A structured and impressive wine. Drink after 2022.