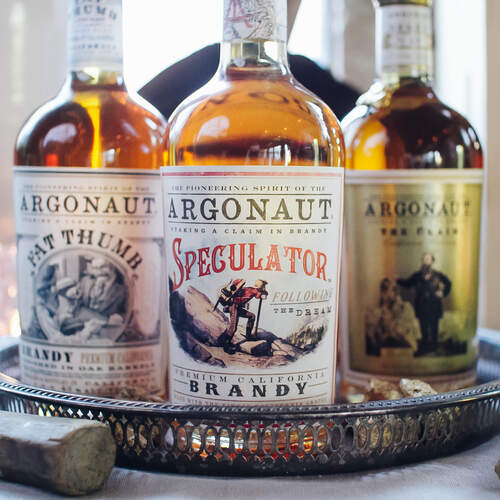 Staking a Claim in Brandy
The Argonauts of the California Gold Rush embodied the pioneering spirit, leaving behind everything in search of adventure and opportunity. They tapped into that spirit for their Brandy - pushing the boundaries of brandy-making to explore what California Brandy can be.

Argonaut Brandy is distilled from flavorful California-grown grape varieties. Aged in ex-bourbon barrels and its blends are selected from some of the rarest, oldest lots of brandy in California.

One of the few brandy makers that own and manage the production process from start to finish. They are the grape grower, the winemaker, the distiller and master blender. This involvement in every step of the process allows Argonaut to maintain the highest quality standards at every step of the process.
A Delicious Cocktail Starts with a Great Brandy
Explore one of our most iconic cocktails, with Brand Ambassador Reza Esmaili as he crafts the California Old Fashioned.

CALIFORNIA OLD FASHIONED
2 oz. Argonaut Brandy of choice
¼ oz. Simple Syrup
2-3 dashes of Aromatic Bitters
Garnish: Expressed Orange peel w/ a brandied cherry
Glassware: Rocks Glass

Add ingredients into a mixing glass filled with ice and stir together to combine/chill.
Strain into a double old fashioned rocks glass filled with ice.
Express the oils of an orange peel over the glass, rubbing the peel around the rim.
Add peel into the cocktail along with a brandied cherry. 
During the California Gold Rush, gold dust served as the preferred currency. A miner would open his purse of gold, offering merchants and barkeeps to take a pinch of dust as payment. Prosperous merchants were said to have 'Fat Thumbs,' thanks to a reputation for taking generous pinches of gold. In blending Argonaut Fat Thumb, our Master Distiller showed she too had a 'Fat Thumb' when pulling from our alembic brandy stocks. The resulting blend showcases the quality of some of our more scarce blending legs. Fat Thumb offers baked apple cobbler, overripe pear, toasted oak, coconut, vanilla, nutmeg and clove, red apple, overripe pear, traces of caramelized banana, rich, silky mouthfeel.
We apologize but this product can not be shipped to your selected state.
Argonaut Saloon Strength 750ML
The Argonauts of the Gold Rush were forced to endure harsh and unforgiving conditions in the gold fields. The Saloon offered an escape from the reality of life as a miner. Fortune seekers often came for the table games and entertainment but stayed for the brandy libations. Argonaut Saloon Strength was developed by bartenders for bartenders. Bottled at 91 proof, this blend allows today's barkeeps to showcase the complexity and depth a Brandy can offer in cocktails. At 91 proof, Saloon Strength offers fresh picked red apple, baked peach, candied citrus peel, toasted almond, vanilla, caramel, and baking spice, black raisin, dried apricot, mid-palate warmth.
We apologize but this product can not be shipped to your selected state.